Assessment Inspection Training Service
INSPECTION LESSON SERVICE
Course content
We are able assist you in raising the necessary assessment details for sales and purchasing.
The purpose/objective
---
Improve your inspecting power by yourself at the auction site and raise the purchasing capacity
Raising assessment ability improves product knowledge and smooth negotiation ⇒ creditworthiness UP
If you discover a vehicle with repair history at the time of purchase (purchase) and eliminate oversight, it will prevent profit loss
Minimize risk by dual checking of purchased vehicles
Evaluation and inspection training can also be carried out to business owners exporting used cars (inspection according to the exported country is possible)
School February (2 hours) - Training time (2 hours)
Course content
Basic knowledge of vehicle inspection
Frame part (vehicle structure skeleton)
Basic knowledge of screw-fastened exterior panel replacement history
What is repair history (explanation of repair history)
Auction Assessment Criteria and Lecture on Assessment Technology
&
We will tell you the purchasing points that can correspond to the NZ market.
Teaching materials that describe repair history cars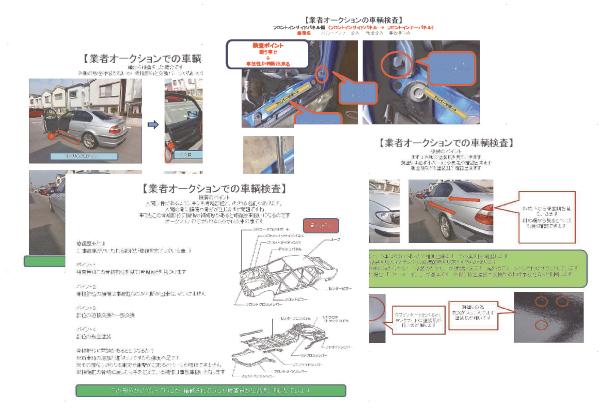 Remember the frame name with a paper craft (identification of structural skeleton)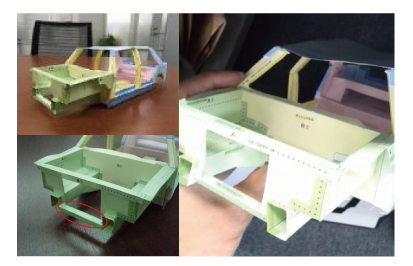 Actual vehicle (4 to 5 hours)
Course content
Basic knowledge of repair history vehicles
Understanding the inspection procedure
Replacement history of weld stop skin panel Basic knowledge (Knowledge of replacement history for welded skin panels)
Distortion of vehicle structural frame and removal/exchanges of parts
Points of the course
Learning the knowledge for purchasing
① Distribution of used cars
About used car industry and secondary distribution
② Second-hand car market
You actually learn the place where the market of the used car is born and learn
③ What is the repair history
Learning how to distinguish basic knowledge and repair history cars and opinions
④ Vehicle Training
I will go through iterative training until I can conduct a lecture by actual vehicle assessment and understand
What to prepare: Dirty clothes ・My light ・Pen ・Gloves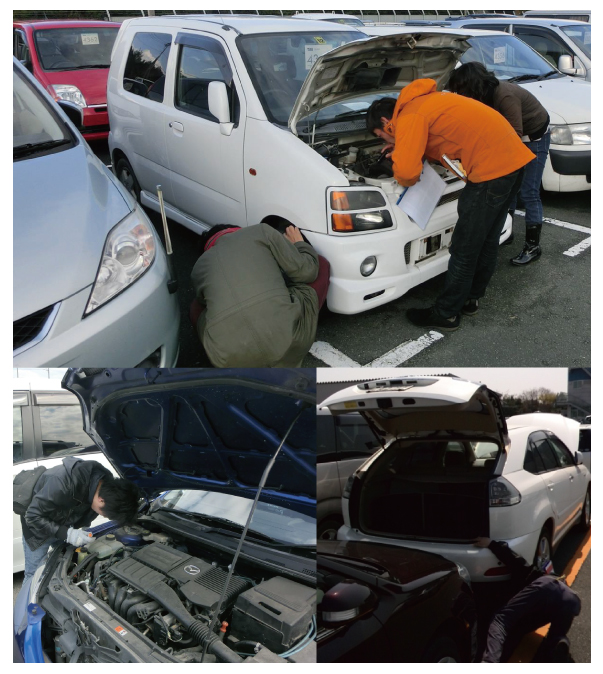 Please be assured of support after training
Hosting requirements How to apply
Lecture days
1 day (please inquire about the schedule)
Time
10: 00 ~ 16: 00 (planned)
School Meeting: 2 hours
Real car: 4 hours to 5 hours

Location
Our company affiliated yard or the company AA venue
(Please contact us for the details of the venue)
Price
¥12,000+TAX
Such an effect can be expected when receiving an assessment examination workshop
---
It is possible to respond to the assessment of purchase and trade-in of customers who visited suddenly
You can understand the state of repair history car purchased at auction site (you can understand the name of the part etc)
Can be taught to the staff inside the company
By thoroughly conducting preliminary inspection of the car to be purchased, the creditworthiness is up and it leads to securing fixed customers
We will tell you the points of assessment tailored for secondhand car exporters
We start broadcasting YOU TUBE channel 【CHANNEL NAME:HUB CHANNEL】

Please subscribe to our channel! And if you like it, please thumbs up!
We are broadcasting about used vehicle inspection.
This is trailer. Please have look full version.
AUTOHUB Co.,Ltd.
〒595-0055
8F KIRARA CENTER BUILDING, 6-1 NAGISA CHO, IZUMI OTSU CITY, OSAKA
TEL:0725-23-8720 FAX:0725-23-8721
Osaka office charge: Yamamoto(tyamamoto@autohub.co.jp)